In the second week we started with some technical prototypes, because as we wrote about in We always build the hard part first, we need to get a good sense of what's possible. Having experimented a bit with some components of the editor, we think the core vision we have for the app we're building is going to work (at least technically speaking).
At the same time we've been working on more design mockups for the app, to get a better idea of what it could all look like and how the parts might fit together.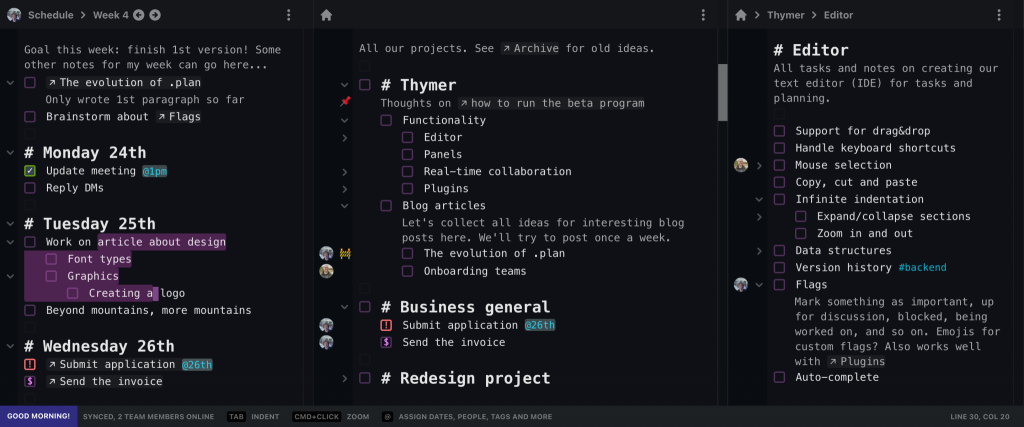 In the coming weeks we're going to build the actual MVP, a first version of the app. It won't have all the features we could think of yet, but it's important that it sparks joy, so we can validate we're on the right track and hopefully get some initial fans of the product.
Some of the work we did on the prototypes we can recycle, other parts might need some rework, but that's part of the process. We wrote about this some more in We build one to throw away.
While building an MVP, we also want to make sure we have a landing page up. The goal of the landing page is to tell people what we are building and generate interest. That way we can already start collecting feedback and build a list of people who want to try the app, and we don't launch to 0 people when it's ready. While working on the first drafts we also wrote about some Landing page do's and don'ts.
We've also written a few more articles on our blog, such as Where are all the software startups, Everything is Power Law and posts about parts of our stack: Our CALM server stack and Setting up a basic git server. As always you can find a list of all our posts here.
As we wrote in our weekly stats, we're also happy we continue to sign up more people for the newsletter (thanks everyone!), got a lot more visitors to the blog (especially after the HN traffic spike thanks to the previous week's You don't need the cloud) and are (very) slowly working on building an audience on Twitter.
What's next
All in all a productive week, but time does really fly so we have a lot more to do! Up next is doing a lot more coding work on the editor, launching the landing page and doing some initial marketing around that.
Thanks for following our story! You can see our daily updates on Twitter (@wcools and @jdvhouten). Or drop us a line at [email protected] for any reason. We're always excited to hear from people 🙂