We're making a todo/planning IDE. Think Visual Studio Code for tasks and projects. For our startup to work we have to get three pillars more or less right: product, business model, and marketing. Marketing because you don't get anywhere when nobody knows your product exists. The business model is the part where we figure out how to make money. Most importantly we have to make a product people love.
Product
We want to make Thymer text based. The design trend over the last decade has been towards shiny interfaces with lots of whitespace and poor usability. Software has gotten easier to use but also dumbed down a great deal. We want to go in a different direction. We want higher information density, a text based interface, extensibility, and we don't want simplicity at the expense of powerusers. On these things we are high conviction.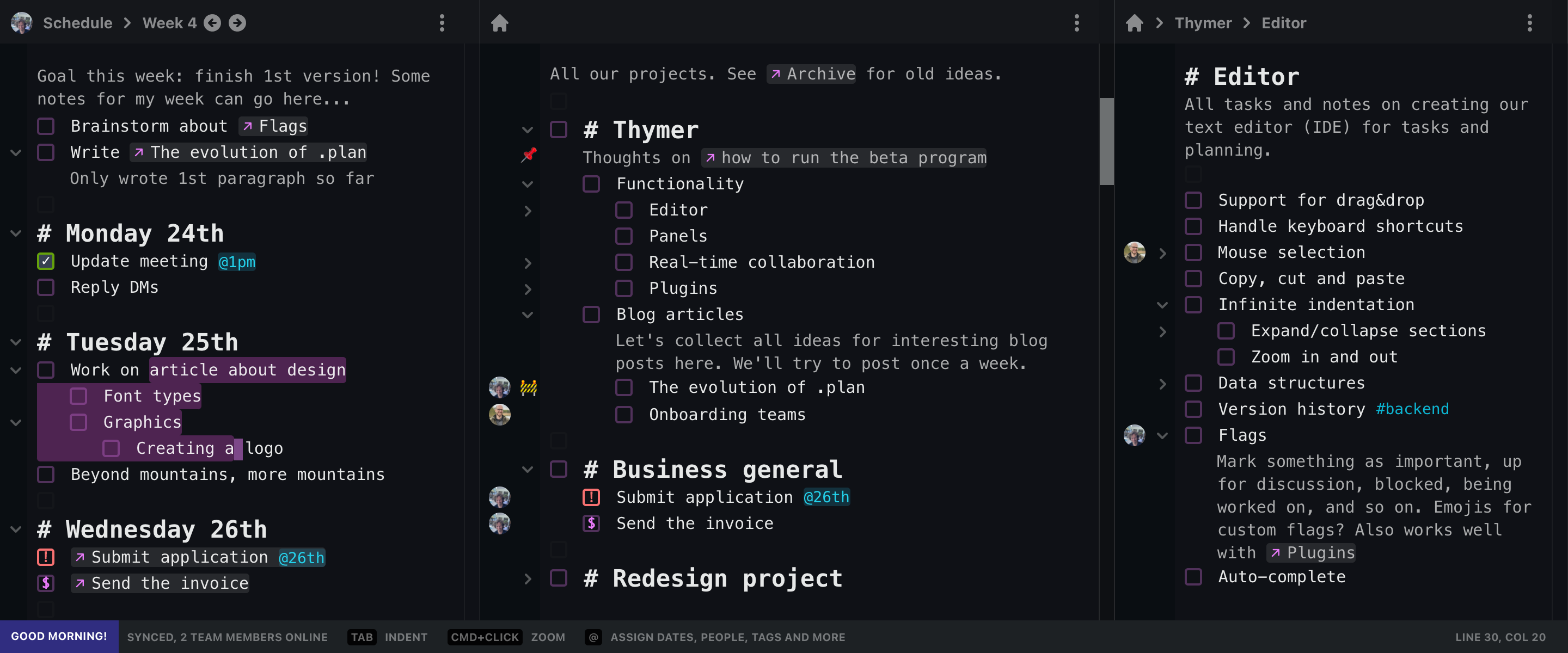 We have a clear vision of what we want to build. If we deviate from this vision based on early feedback we'll end up with a product that lacks cohesion and that nobody will get excited about. We can pivot somewhat, but we can't change what our app is fundamentally about. If it turns out that people just don't want this kind of software (or don't want to pay for it) we'll throw in the towel and build something else.
Marketing
These are some of the marketing channels we can use to get the word out:
Social media (reddit, hacker news, linkedin, discord, other communities)
Google ads, Twitter Ads
Youtube channel
SEO marketing pages to boost organic search engine traffic
Twitter
Magazines
Blogging
Guest spots at podcasts
Guest blog posts
Bulk deals (e.g. Appsumo)
Integration with 3rd party products or protocols
Viral features/word of mouth
We won't know which marketing channels will work for us. Presumably one or two marketing channels will end up producing the bulk of the traffic. We've just got to try everything and we'll discover what works in the process.
When it comes to marketing and distribution we're low conviction. We'll have to figure it out as we go. As long as we get traffic and trial signups I'm happy.
Business model
On principle we're only willing to try a couple of business models:
Freemium (mostly free users; small percentage upgrades to paid)
Freemium + B2B SaaS (also have subscriptions for businesses)
One time fee for lifetime access
Pay for usage or flat fee?
We don't want ads in our product, but any combination of free+paid we can try. We can make some educated guesses on what works, but ultimately consumers aren't rational agents. How much users are willing to pay, if anything at all, depends on emotional factors that are hard to forecast. Can we charge based on the value we provide? Will customers price anchor based on competitors? Will customers feel strongly that software should never cost more than $X? We don't know. Needless to say, with regard to pricing, we're low conviction.
If we can't drive enough traffic to our website to get trial signups in volume, then maybe we'll pivot and introduce features that appeal to businesses. As we wrote about earlier, a business subscription is easily worth 30x a single user subscription. A B2B SaaS product can thrive on a trickle of traffic.
Marketing is the real bottleneck and biggest unknown. Given enough traffic and enough trial users I'm confident we'll be able to fix all major issues in our product and the business side will take care of itself.